The choir accepts bookings for weddings, conferences and other events, formal and informal. A small wedding choir will cost in the region of £400 plus expenses (depending on the complexity of the music, and the number of singers required). This will usually involve singing two or three pieces during the service, plus supporting the singing of congregational hymns, and spoken responses. In addition, for church weddings, our Director is willing to act as organist, for which an additional fee is payable. A discount is offered for the package of choir + organist.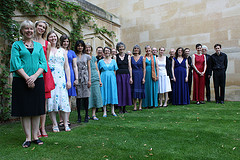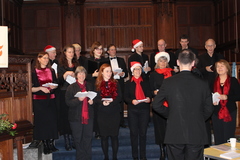 We can offer programmes of part-songs, madrigals and other short songs for conferences or other events. The fee will depend on the duration of the performance, but may typically be about £400 for a 30 minute performance, plus expenses.
The choir is not registered for VAT, so no VAT is chargeable on these fees.
Please get in touch via info@cherwellsingers.org to discuss your requirements.