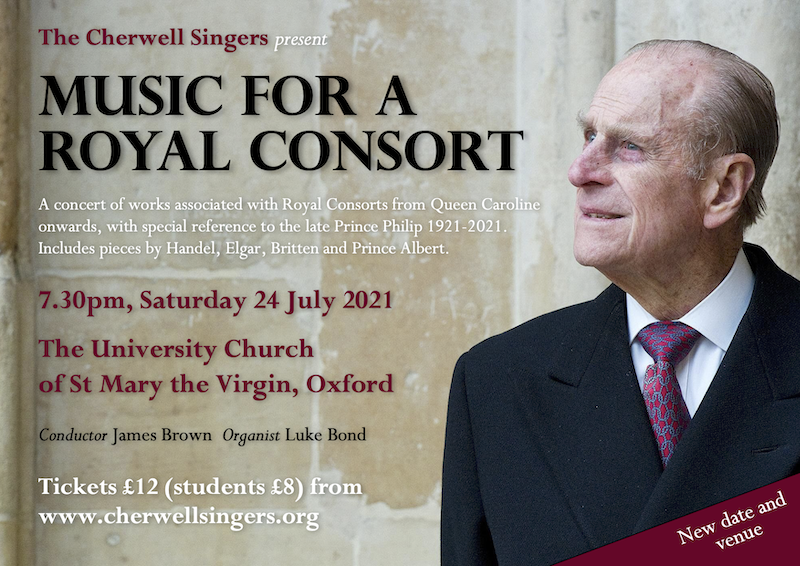 The Cherwell Singers present
"Music for a Royal Consort"
In memoriam HRH The Prince Philip, Duke of Edinburgh (1921-2021)
University Church of St Mary the Virgin, High St, Oxford
Saturday July 24th 2021, 7.30pm
To mark the centenary of the birth of Prince Philip, Duke of Edinburgh, and to commemorate his long life and recent passing, the Cherwell Singers concert this term is titled "Music for a Royal Consort." Prince Philip was the most recent and longest serving royal consort, but in the first half of our programme we explore music written for, or associated with, previous royal Consorts, including Queens Caroline, Alexandra, Mary, and Elizabeth, the recent Queen Mother. The most substantial work here is Handel's Coronation anthem "My heart is inditing", written for the moment during the service when the Queen Consort was crowned.
We also include an extremely rarely heard work by Prince Albert, consort of Queen Victoria, - his setting of Psalm 130 "Out of the deep".
In the second half of the concert we focus on music associated with Prince Philip himself, including works performed at his wedding and recent funeral. Accompanying us on the organ will be Luke Bond, who in his position as Assistant Organist at St George's Chapel, Windsor was organist for the Duke's funeral in April. He will also be playing organ music he performed at this service.
Do join us at the University Church to hear a very wide variety of choral works from the eighteenth century to the present day, and reflect and learn about the interesting Royal history behind these works.
Covid safety: Seating has been arranged to ensure ample social distancing. Face coverings advised.
Tickets: Online (Eventbrite) and tickets are available on the door
17/6/21 UPDATE This concert has been changed to 24th July in the University Church. Existing ticket holders have been contacted.