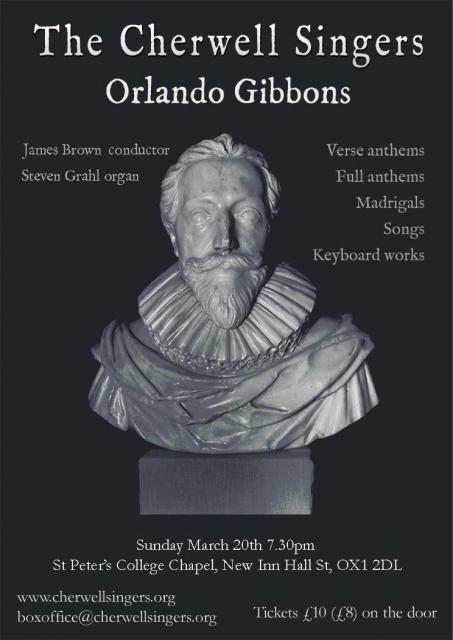 20 March, 2016 - 19:30 St Peter's Chapel
This term the Cherwell Singers pays tribute to one of Oxford's greatest sons and one of the foremost English composers of the early seventeenth century - Orlando Gibbons.
Born and christened in Oxford to a musical family, his career included a choristership at King's College, Cambridge, eventually becoming organist at the Chapel Royal and Westminster Abbey. Gibbons was one of the most versatile composers of his time, and we have tried to reflect this in the variety of types of composition we are featuring in our concert. Thus we include examples of his verse anthems (including probably the best known, "This is the record of John"), full anthems (including the eight part "O clap your hands", first performed in Oxford), service music for the relatively new office of evensong, and madrigals (including the much loved "The Silver Swan")
Once again we are joined by Organist of Peterborough Cathedral, Steven Grahl, who will be playing a keyboard work by Gibbons as well as variations by later composers such as Vaughan Williams and Stanford on Gibbons song tunes. All three keyboard instruments in St Peter's College chapel will be played by Steven, including the new Nicholson chamber organ of 2012. The counter-tenor soloist will be Patrick Dunachie, newly appointed to the King's Singers and a former member (like Gibbons) of the choir of King's College, Cambridge.
The famous Canadian pianist Glenn Gould named Gibbons as his favourite composer and compared him to Beethoven. Do join us on March 20th to explore the riches of the music of this local master of his craft.
Organist: Steven Grahl
Tickets £10/£8 online or at the door. Directed by: James Brown